I got very early in anticipation of the long ride and was on the road by 8:30. It was a bit chilly in the mountain air but things  soon warmed up as the road wound up and down the valley to the East. Even with the odd little climb of 100 meters or so I covered a lot of ground in the first couple of hours. There were still interesting camera shots but nothing like yesterday from the top of Sulphur mountain.
There is a Banff cycling trail beside the highway but it just didn't hold the consistent grade like the highway so I only tried it for a kilometer before going back to the highway. Coming out of the mountains really felt like I was in new territory growing up in British Columbia and only having only seen Toronto and Montreal outside the province. The road is mostly flat but the grade changes from time to time and there are little hills here and there that take a little effort.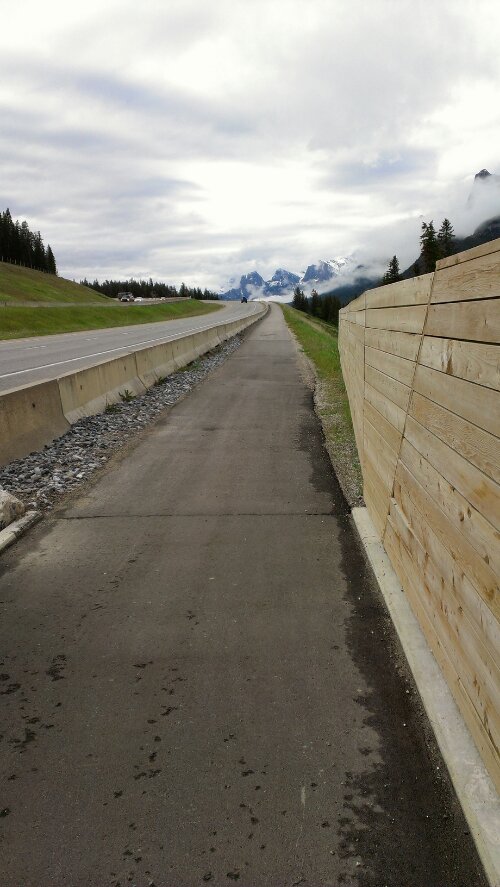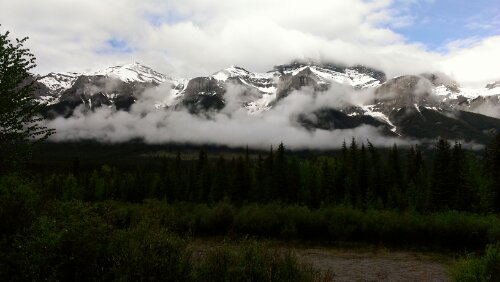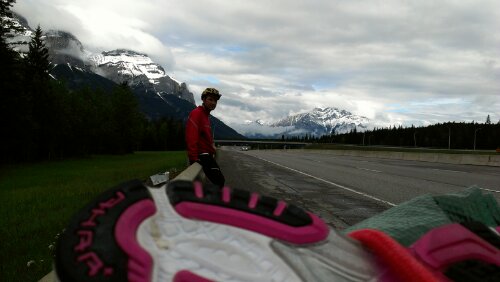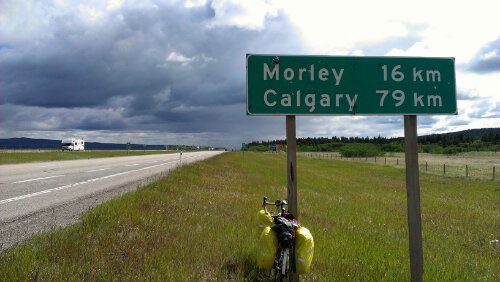 As it approached lunch time I decided to pull into Chiniki first nations which has a restuarant overlooking the highway. I had lunch and relaxed a little watching the traffic go by outside and even avoided a little rain. As I was about to go an older couple asked me about where I was going. JR (Johnny Robinson) and Pauline where very friendly and told me a couple of stories about cyclists. The first was about a Swedish couple who got married at the age of 18 and rode from Sweden to the tip of Africa then across Canada where they met at this exact same spot. What a honeymoon! The second was of a German man who many years ago came to Canada to meet "Real Indians". He was apparently expecting to see people in loin clothes. He wanted to live in the outdoors so he camped through the winter even though none of the locals did so. At one point he made a fabulous grouse stew which he left by the fire as he hunted for wild onions (not unlike mushroom hunting) but while he was gone JR's dog ate the stew. On a sadder note there was a funeral that day for a 30 year old man who had died from a blow to the head. Apparently there were gangs now among the 5,000 or so people and there was violence within the reserve. They told me it wasn't really safe anymore and there didn't seem to be an resolution to the problems. As I rode down the highway after I was very saddened to see two people near the end of life knowing that younger generations are having problems and are violent toward each other more than your average town or city.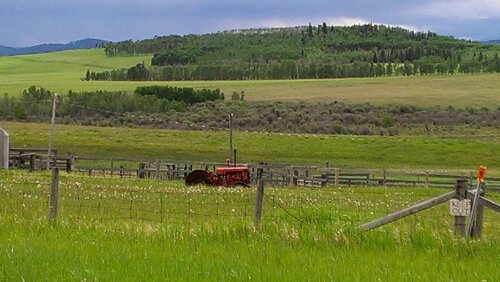 Now that it is flatter you can really see where the rain is falling in the kilometers ahead. For the most part it was ahead of me to the South and behind me to the North West but not on me. That was about to change and I hit a major rain storm which soaked me to the core within 5 minutes. Up ahead I could see it was lighter in the cloud cover so rather than put on more gear I just cranked a few kilometers where I came upon a much older gentlemen cycling as well. I introduced myself but he didn't seem to interested in conversation. I could see it in his face, the look of "Get me out of here!".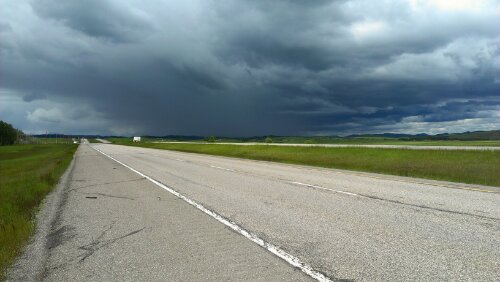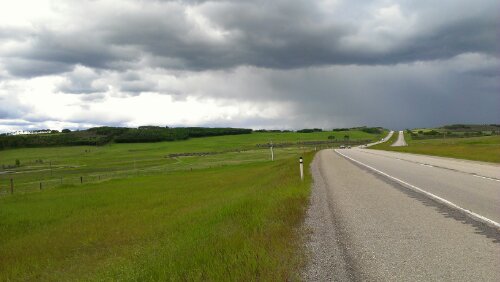 I sped off and eventually made it out of the rain. As I approached Calgary city limits my data service on my phone still wasn't working. It was sort of forgivable in the mountains but come on Bell, you can say you have 94% coverage when it is more like 3%. I rode into the olympic park but there really isn't much to see in June so I continued into the city.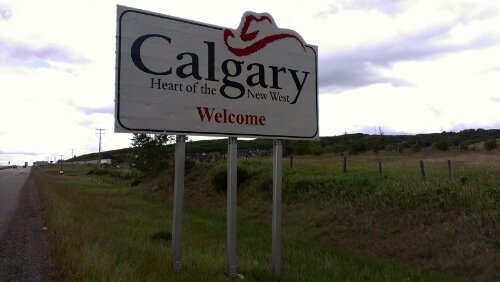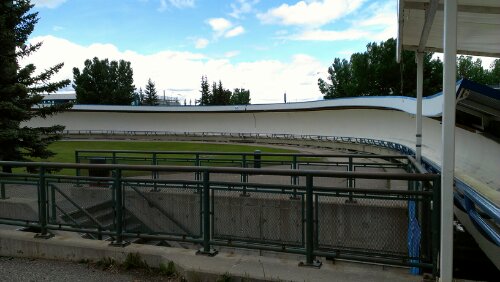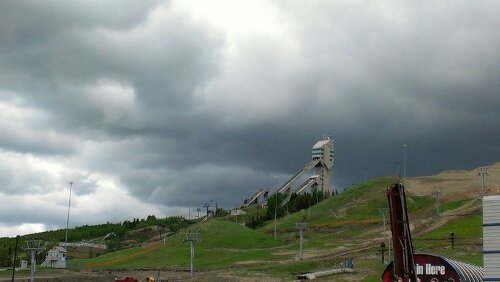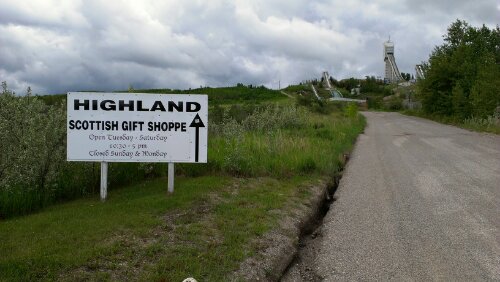 Eventually the highway turned into a narrow 16th ave. which I wasn't enjoying at all. I noticed a paved trail by the highway and low and behold it followed the Bow river almost to where I was going to stay. As I neared I was holding the phone to determine where to go after crossing the bike bridge which is directly underneath the car bridge – cool! I hit a rock and the phone left my hand and I watched it: bounce, flip, bounce, flip, bounce, bounce, stop. Inches from going in the water, I could not believe it. Seriously I would have been lost at that point with no map. Someone had left two rocks the size of potatoes on the pathway that I manage to hit as I was looking at the phone. I had a small heartattack if that is possible and picked up the phone which seemed okay but still no reception and I was entering the heart of Calgary.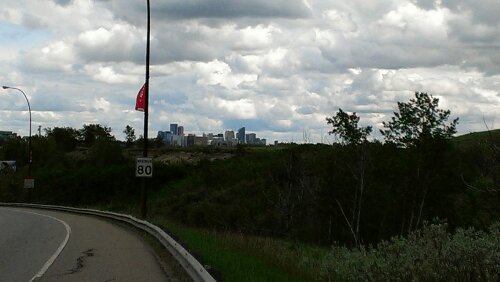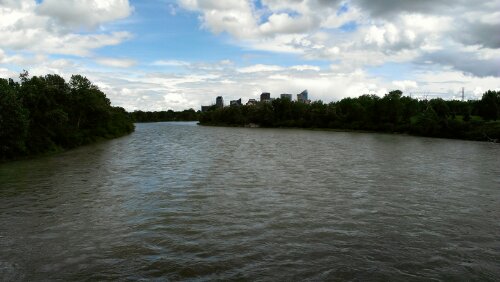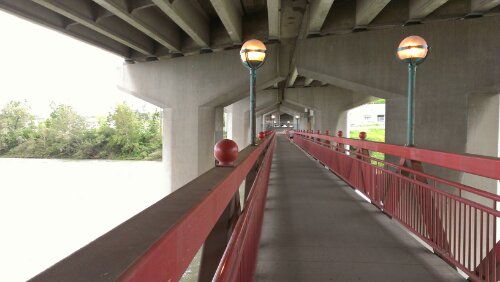 I made to my good friend Cassie's brothers Derek's place and tried to sort out the phone. At first the technician seemed a little more helpful but eventually it got back to "it should be working". So how am I going to call Derek? I also asked about the dead spots and her repeated several times "as long as you are in range of a tower you will have service". Then he said goodbye, not is there anything else I can help you with. Do not sign up with Bell because they provide horrible service and support. I guess the real problem is I have heard the same complaints from others and I can attest that Wind is slightly better than crappy.
Okay enough ranting. I was able to fix my phone by turning the mobile service off from my usage menu and turning it back on again. I went for some Hot Chocolate and met Derek about half an hour later. After cleaning up we went to the pub where we met his girlfriend Ashley and friend Darren. We had some good conversation and mediocre food before calling it a night.