Other than some loud Englishman next door berating his son for marrying a German girl because his father told him not to marry a "Helga" all the while the supposed wife and some other Germans were in their company. It was totally embarrassing I wasn't even there. I myself can say I have met a few German ladies and most of them were marriage material. I guess you can't pick your family eh?
I got up pretty early around 7am and Mark the rider from Montreal had left a note that he had left already and didn't want to disturb me. I packed up and started to ride off as Tim appeared from the camper trailer. I said farewell and was on my way up the hill back onto the flats. I discovered that the camera on my phone has a really easy wide angle option which will stitch 2 to 5 pictures together so I took some more of the badass lands.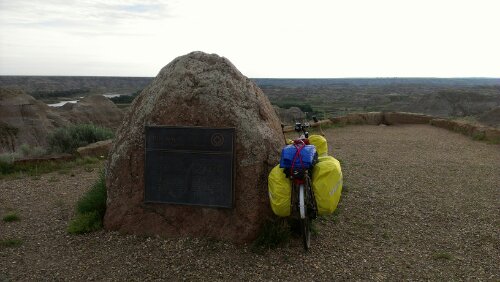 For once the wind was at my back and I sailed effortlessly through the previously unforgiving road. A pickup truck passed by me and pulled over. It was the gentleman on the motorcycle from the yesterday who gave my directions to Dinosaur park. It turns out that he was fixing fence posts yesterday and is a cattle farmer. We talked about cycling up and around this area which he does some of the time but really doesn't have the nerve to do long distance on a busy road. He said he didn't want to get "doored" which I took to be some one opening their door to knock you off the road. We talked about what I was doing and why and part of what came out was to meet Canadians across the country with politics aside. This struck home and I think it does with most of everyone I talked to. No one party or group represents us and we have much more in common than the "division politics" make us seem. Rather than focus our attention on the politicians we are directed at other parts of the country getting an apparent free ride. I love political discussion but the fact that is was not present made this conversation more real. We just talked about the countryside and an old tree stump near Winnipeg which he has never seen but he has directions to it on an old napkin written down by a native elder. He wants to see it so if he forwards me a picture of the napkin I will try and track it down! For me this is what the trip is about!
It wasn't too far up the road before I caught up to Mark. He was pulled over looking at a map. We have both coincidentally decided not to go back to the main road but to head south to highway 1 a little early. I looked good on the GPS so we proceeded. There was a little gas station up ahead so we pulled in and realized i was closed. It also looked like it was broken into as the ATM machine was outside all mangled. We continued South but the road turned quickly to gravel. I figured it was 20 km to Highway 1 and said "Fuck it, I am going for it". Mark nodded and decided to follow. Since we go very different speeds I was quickly out of sight for him. The road was less than perfect and there were build up of gravel that if navigated in for too long would result in the front tire sliding out and me on my ass. As my progress was grinding to a halt I couldn't help but worry about Mark who is not used to hard road like myself.  I know I bitch and complain about it in the blogs but I always manage to get through it. This is partly due to my brother-in-laws voice poignantly stating "shut up and ride you wussy".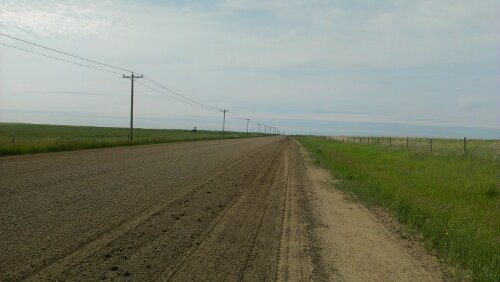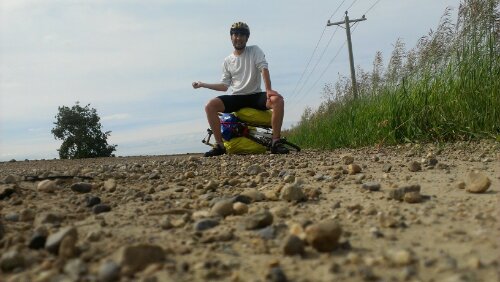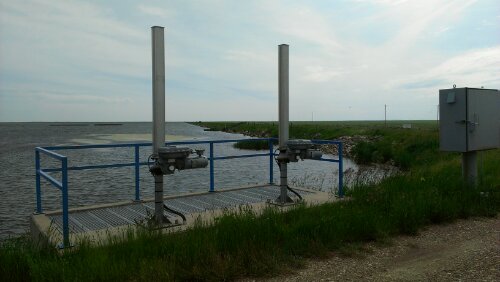 About 10km in the road was being graded on my side which meant a firmer road and less chance on wipe out and better progress. I followed along until I saw a flurry of winged action of to my left. My guess is it was a nesting area in the tall grasses but these birds were all swarming around, some landing briefly before zooming off again circling the area. They seemed pretty oblivious to me so I decided to film. I think I should work for the nature of things: Jeff Glen biker extraodinaire taking you to the outer reaches of the badlands lake areas to bring you bird foreplay?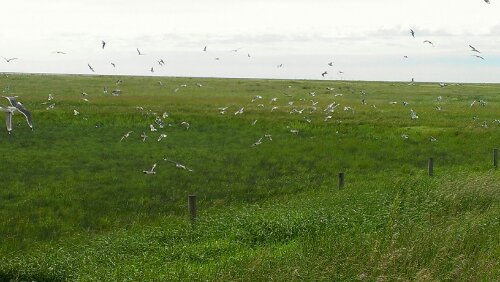 While on the topic of birds there are a few species of small black ones that I have seen all throughout my journey. When I ride by they ride overhead just behind me in a way to motivate me chirping "Jeff you are our hero, we would go the whole way but we have family duties etc.". I witnessed something to shatter that belief. It was a hawk who was chased by one of these little guys for a good 30 seconds. I couldn't believe it and neither could the hawk who made long sharp cries of "leave me alone you gnat". Now I know these guys are just really territorial and don't like me.
I finally saw the trans Canada up ahead and felt relieved but of course Mark probably many kilometers behind cursing my name. 4 kilometers on the other side of the highway is Tilley, Alberta where I had lunch which included a fried egg sandwich and two colas. Now that I was heading South East I was going headlong into the wind. I had to look it up which is a distraction and a negative justification but winds were 22 km with 30km gusts but the gusts where every 5 to 10 seconds. I am not kidding when I say I lost a part of me out there. Battling saddle sores and high wind with high temperature is meant to crack your egg and it got me a few times. I would ride 10km at a time then stop and pity myself as I rubbed the salt formations off my arms. Then every 5km until the last 10km into Medicine hat I was stopping every kilometer or less. When I hit the outskirts of town just above the bridge over the Red Deer River I just sat and looked at the town for 10 minutes. I didn't want to go any further yet I had to.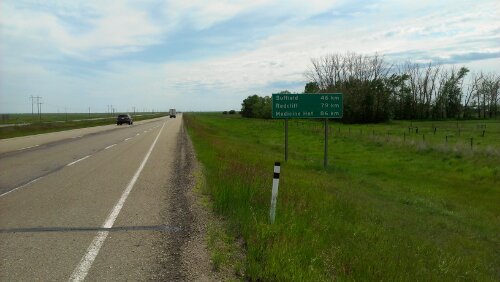 When I finally got the mustard I crossed over a very run down and scary bridge and pumped up the hill to the first intersection. From there I turned off and went to the first RV park with a campsite. I was wiped and beaten but I made it, I thought to my self "Mark must be in the shit right now!".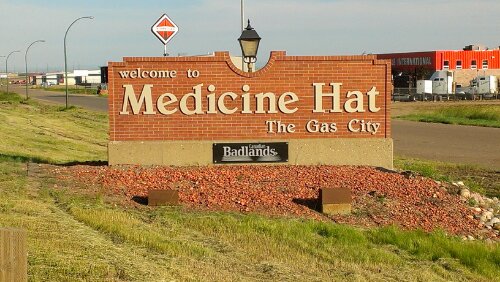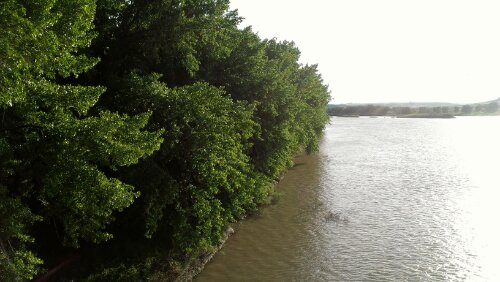 I cleaned up and happen to be showering at the same time as Randy. Matt shut it! Separate shower stalls of course and after we talked about what I was doing as he had seen me come in by bike. He was a really nice guy and since I didn't have a charger I could use his after I went for dinner and did my blogging. I did exactly that, had some fries, a couple of beers and posted from the day before. After I went back to his trailer and plugged in my tablet while we talked about cycling, water and some of the politics effecting our nation. Another great conversation but I had to cut it short since I was wiped and had to head off to bed.