Every day we always start with the best intentions. Though a little mentally and physically tired I got up early thinking maybe I sneak into town for a little bit before making my way into Saskatchewan. Before heading off though I wanted to tighten up the rear rack since it seemed a little loose. After applying a little pressure the lower mounting bolt broke – shit! Now I was in trouble sort of. By this time Randy had come by and he said he had a drill and at the very least could get the bolt end out.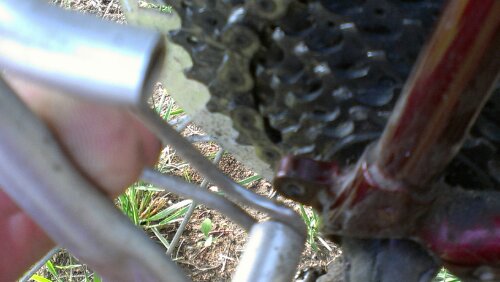 While he searched for tools I contemplated how bad it could be. I thought to myself it is rideable but not on downhills. By this time Randy was all ready to go and I let him it. Believe it or not he was able to successfully drill a hole through and get the screw out with a tap and die. I was very relieved and zapped up the mount and put a bungie in for good measure. By the time I left for town it was around 12, not according to plan but what can you do.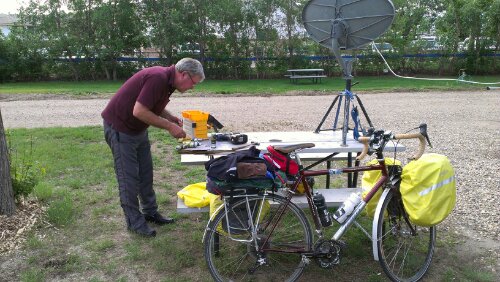 In town everything was closed since it was Sunday which I figured out after riding around for a while. I eventually stopped at the Rosetree cafe for a sandwich and hot chocolate. The barrister gave me a couple of bucks as did the customer sitting at the bar. When I was leaving I noticed two young ladies had sat down and thought I should go ask for a donation. They were both very friendly and donated, in addition Elizabeth suggested I stay with her family as thunderstorms were on the horizon. She even offered to send her husband out to get me if I changed my mind. It was a very nice offer which I contemplated a few times over the next few hours.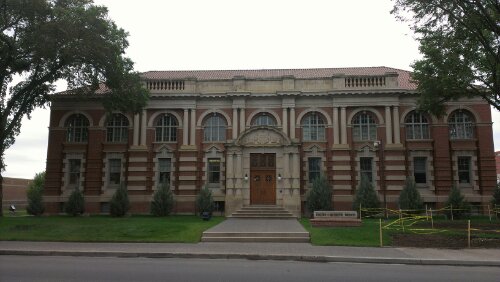 From there I rode to the stampede which was of course empty, the Canadian armed forces barracks and finally Canadian tire where I found a bolt that would screw in. All good and ready to go but the weather was looking ominous. As per usual once I get it in my head to leave I can't change my mind.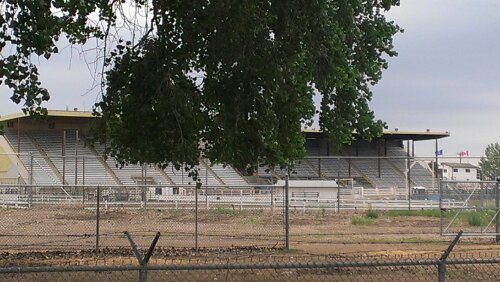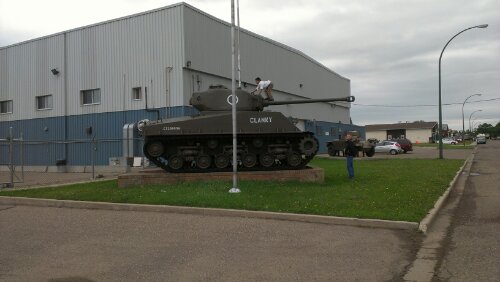 Not only was the wind terrible just like yesterday, my saddle sores where not healed and I couldn't go for more than a kilometer before getting frustated by either one or both. I was fortunate not to get rained on but I was having a serious meltdown on the road. It got to the point I was stopping every 500 meters to curse the wind.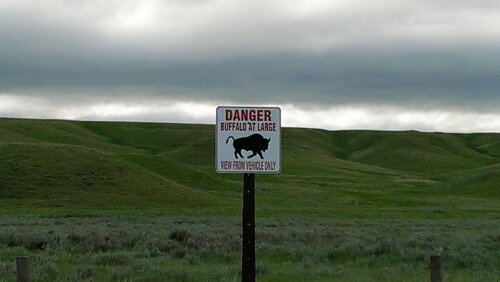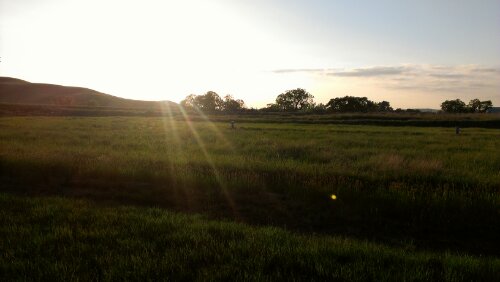 At the very least I wanted to make it to Saskatchewan which I came within 3 kilometers before stopping in Walsh Alberta. Home of the tourist branch and two gas stations. This is literally all there is to do here according to the tourist info guy. I set up my tent, cleaned up and had a few beer to contemplate the day.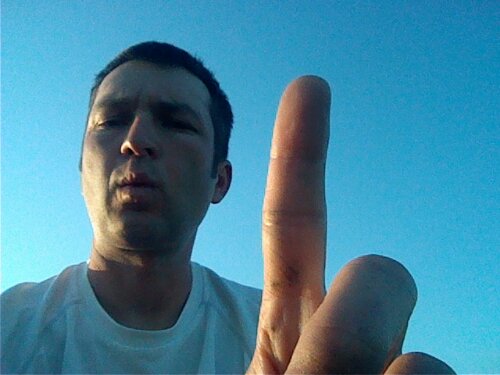 Wind 1 : Jeff 0