Thursday August 30th
Another tough ride but some tailwinds near the end!
Getting up was very hard after yesterdays 200 kilometer ride. I had a cute little campsite which was simply a picnic table by the lake. I had no food so I just got on the road to hunt down some food. Fortunately there was a gas station with a restaurant only a kilometer up the road and the owner was just unlocking the front door. The unfortunate thing was the restaurant was not open until 11 and I wasn't waiting 3 hours for food. The owner said there was a restaurant 50 kilometers up the road but he could sell me some sandwiches for now.
The road continued as it had yesterday, very hilly and very windy. I just sucked it up and kept riding but it was still getting to me and I couldn't wait for the road to head more West than South to take advantage of the wind. During this time I crossed the thin bridge of land that connects the South Eastern part of Newfoundland with the rest of the island. It is really narrow and you can make out ocean on both sides. What makes it even more interesting is there are small lakes covering most of the rugged rocky terrain where the trees cling to the stone for dear life. It is not hospitable at all up here but it is beautiful.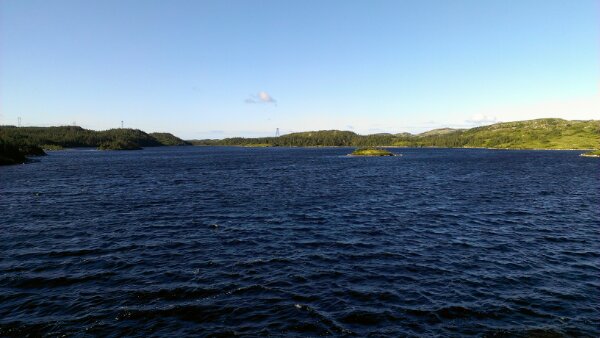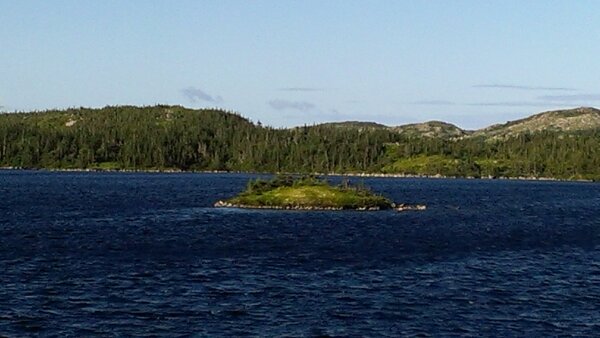 Eventually I made it to the breakfast place which was literally 50 kilometers away as indicated. There are three other gas station with restaurants here as well since this is the turn of for Argentia. I stopped in the last one and had steak and eggs. Why not, I was starving and still have 90 kilometers of riding. It was a great breakfast and it let me have a final mental break before the final push. I got back on the bike and recognized that slowly the wind was starting to go my way. There were still gusty cross winds but in more westerly sections of road I was getting little pushes. There are not so many trees out here but still a lot of tiny lakes. By the time I was 20 kilometers out of St. John's I had a tailwind and started to push harder.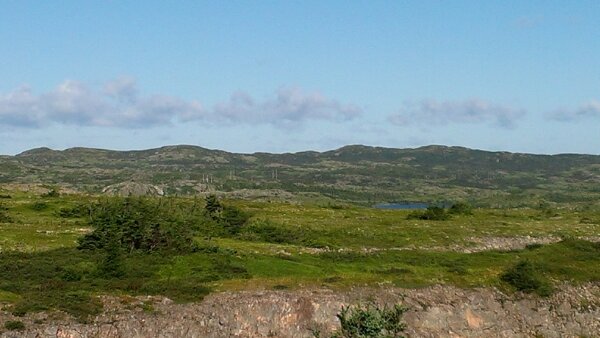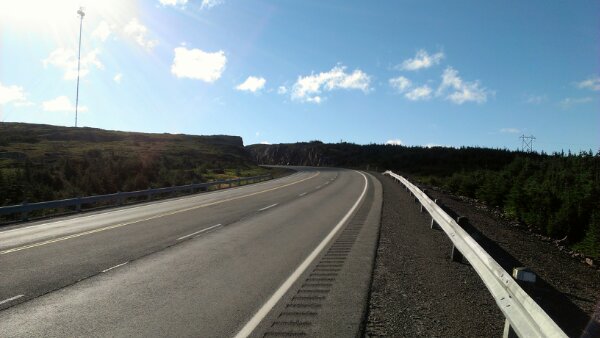 I recorded the last 26 minutes of riding to the harbour and I gave it my last bit of energy to climb the few remaining hills but there was a lot of downhill by this point. Maybe a kilometer out I nearly bit it. I saw the shoulder transform into a gravelly covered elevated path with a gutter section on the highway side. I was rolling fast and I heard a big truck come roaring up just as I decided to ride the gutter. There was a huge hole that I sort of bunny hopped right when the semi passed me. If I wiped out there that would have been it. I kept going though and rode right up to the harbour. I made it!

At the harbour I waited for my hosts Jen and Mike to come by. I had bought a six pack last night and had four beer left so I proceed ed to drink them one by one from my water bottle. When Jen and Mike showed up it was down to business pretty quickly. Mike was a little concerned since some sewage gets into the harbour from the boats but I was thinking about this moment for 89 days and I just wanted to get r done! Jen filmed while some spectators watched in disbelief, check out the young girls face just before I jump in.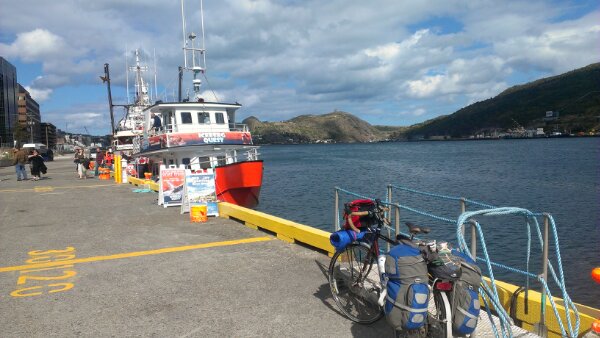 After the plunge Jen's brother Chris arrived and we drove up Signal Hill at the other end of the harbour for some beautiful views. Boy it was windy up there!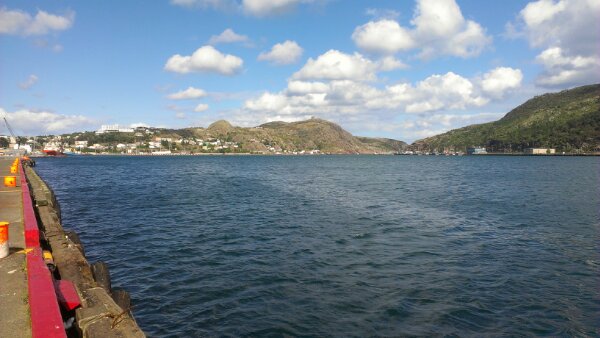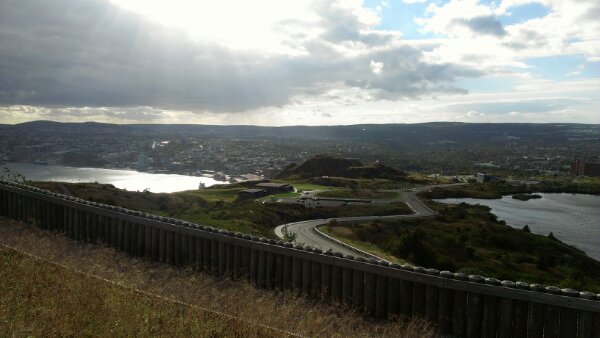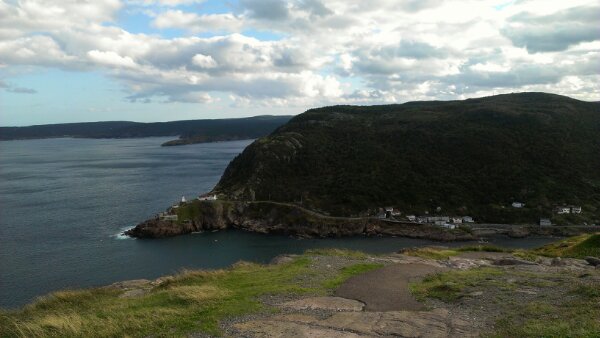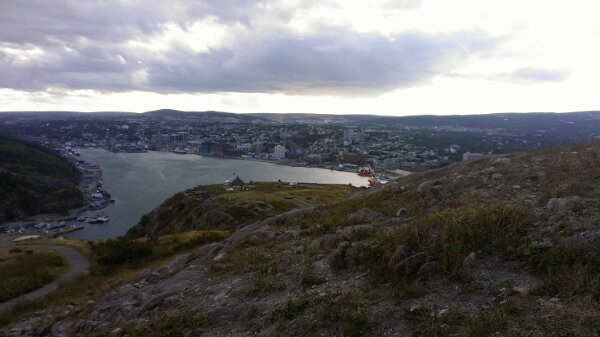 To cap the day off Jen bought dinner for all three of us as we watched the sunset. Oh and later a had a little shot of screech!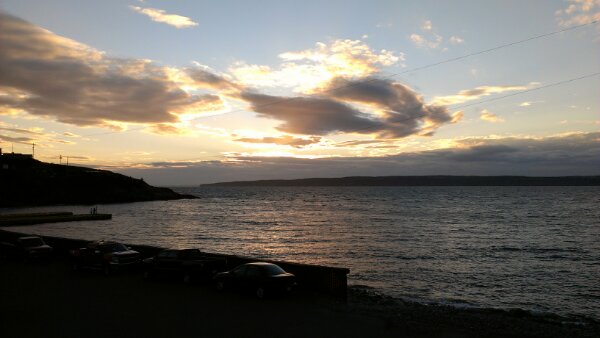 I don't think I have the words to sum up the trip just yet and I plan to travel back to Halifax and Moncton so stay tuned for more posts. For now I wanted to thank everyone for their support across the country. Canada is truly a beautiful and diverse country and you all need to get out to see the different regions. My fellow Canadians were very friendly and supportive and kept me going through all of the hard times. The donations have been incredible and I never could have dreamed it was so successful. As I eluded to, I will put together a better summary in a week or so but stay tuned.
Your cyclist friend!
Jeff