Wednesday August 22nd
Check out the hills on this baby!
This morning I had a show down with the chipmunks of Cheticamp. It started because while getting ready to go I had unloaded everything, including food, from the tent. I had gone to brush my teeth and when I came back I saw Tricia had come over and was trying to shoo something away. Low and behold there he was with butterscotch chip cookie bag in his mouth trying to drag it off the table. He didn't want to give it up and when the bulk of it fell over the side of the picnic table he couldn't hold on and it crashed to the ground. I jumped in with the quickness of a cat and grabbed my cookies! While I was gone they had also chewed through my bagel bag and did a little nibbling on not just the top one but a couple of them. I through those to the ground and they started coming back for the scraps. One tried to take a full bagel a d could barely move it so I went to grab it and he held on to the last minute before scurrying away. I broke that piece into small pieces and within a minute another was back but head chipmunk chased him away, it is fierce in the wilderness.
The day started right into a climb of the biggest mountain here which is named French Mountain. It is only around 500 meters high but the ride is a pretty good one and I felt like I was back in BC. The view was of course incredible and it was a nice and cool overcast day with the wind blowing from the North. This made for great riding even though it was hard. Even the cars and trucks were having a little trouble. I wonder what they think when they see me. At the top of the climb is Skyline trail which Amanda and Pictou had suggested that if I do any trail to do this one. I have to thank her since this is a spectacular trail once you get out to the edge of the ridge. You see the park on your left when you are heading up the road which you can see in the pictures I post. For those that do it, skip the loop and just go straight to the Western lookout. I met two Aussie girls who did the trail with me which was nice since 5 kilometers of it had little or no view. I can't do the views justice with my pathetic writing skills so have a look below: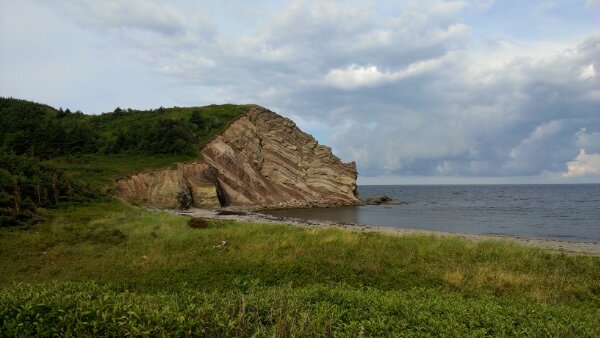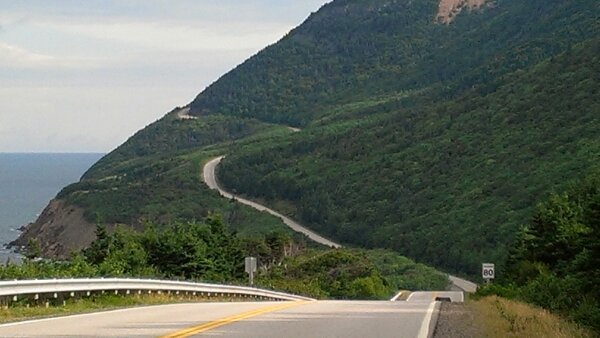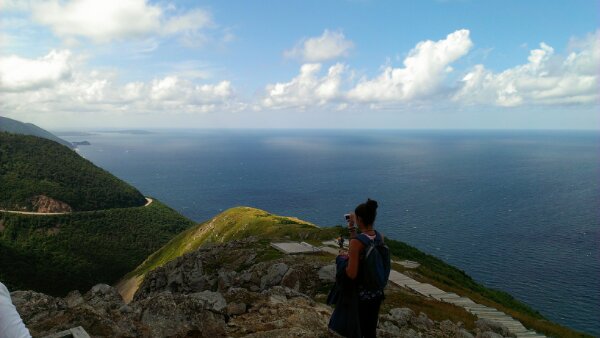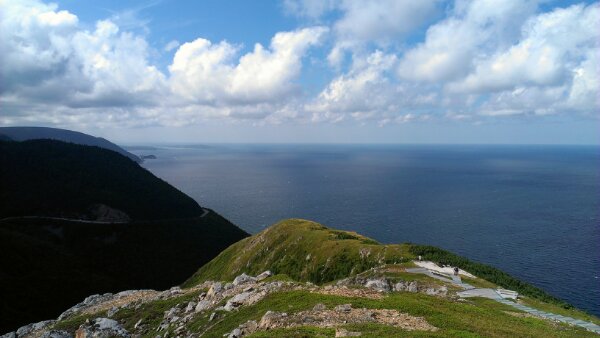 On the way back I saw my first moose! She was small but very close to the trail so I waited until she relaxed and came close to the trail to capture some video. It was pretty cool to see a big animal so close and with little danger since I don't think the females are aggressive which is unlike Albatrosses with their dangerous flight patterns but I digress.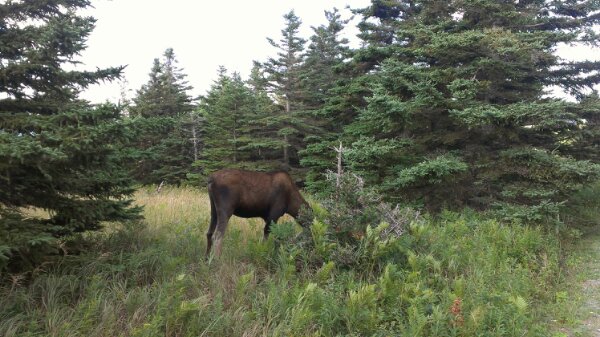 The top of the hill was just a little further and then you are on a very large plateau which has at least one lake, brown grassy areas and some smaller old twisted trees. I suspect the wind can get horrendous up here but it was all blue skies now since the wind had pushed the clouds away. It was only hot when the wind stopped so I kind of liked the wind. The road wound back toward the sea for another spectacular view of a little beach where a fishing village used to exist. You can hike down the 8 kilometers but I had already hiked 9 kilometers today and need to ride 100 or so more kilometers so I continued along the road.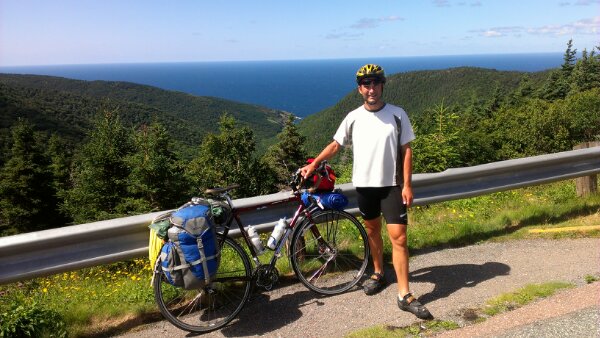 There is a massive windy downhill into Pleasant Bay that without a weighted down bike and the blowing wind would be an incredible descent. It was still pretty awesome and no traffic could keep up to me, not even close. I stopped at a little restaurant around the bottom before the the bay and had a lobster wrap. It was good but I guess I am not a seafood person because I never really enjoy it so much I want more. Out of Pleasant Bay comes some unpleasantness as you hit North Mountain which has a 13% grade for about 4 kilometers. Now this was a hard ride and ranked up there with some of the climbs in BC with some really steep parts. Part way a couple who were riding with a tour company were stopped waiting for the van. I didn't stop but asked if they were okay to which the man retorted "it is too hard". Further up a lady was walking up and she simply yelled "impressive" which made me feel good. The tour van passed me slow enough to yell out some encouragement as well. Knowing it was only 4 kilometers I got pretty stubborn and just cranked it as hard as I could without stopping. It had a kind of gradual crest and seeing the tour van parked beside the road I started ratcheting up the gears until I passed them doing about 30 km/hr at the crest and then I put the hammer down and blew by some cyclists who had gotten the free ride doing about 50km/hr. The road then dipped really steeply into about 10 small switchbacks with speed warnings of 30km/hr. The wind was howling in every direction but I was smoking down the hill and didn't stop for pictures. I was cutting the corners massively and accelerating out of them to about 65km/hr when I dared to look down at the odometer. I blew by a cyclist who had stopped at a lookup and just held the corner enough to make it around but by then I decided I had played the game for enough now and stopped at the next look out. The lady whom I had just passed couldn't believe how fast I came down. She was from Texas and the tour group had said this was a moderate ride. I would say it was far from moderate and would not recommend North Mtn. except for experienced cyclists.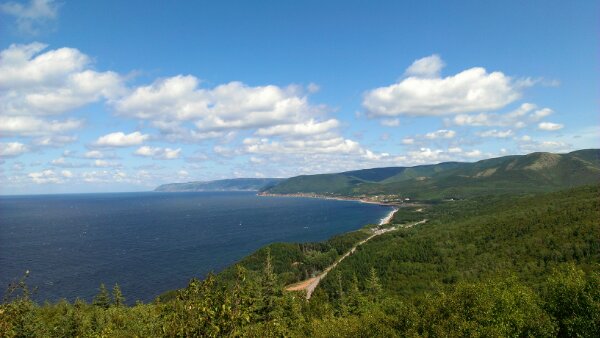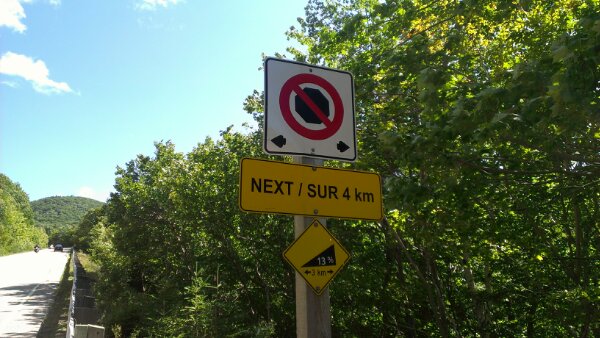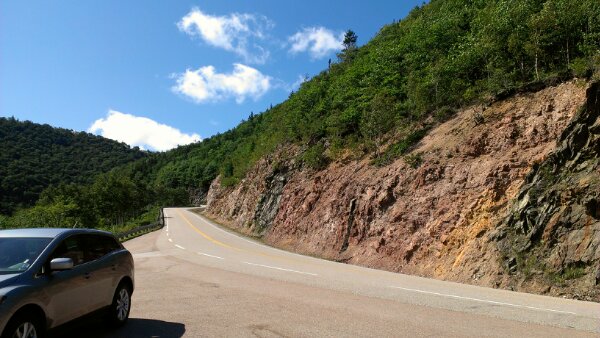 There was a nice long ride out before it went into rolling hills. The road continued to remain shoulder less and there seemed to be a bit more traffic. It was still a ways away from the coast but I just kept riding for as long as I could with taking as few stops as possible. Eventually you come out of the forest to the Southern coastline which is much more scenic than the North in my opinion. The ocean thrashes the large rocky coast line into rounded stone of pinkish colour. I love the crashing sound, it reminds me of Hawaii near Sunny Beach. I stopped at one of the lookouts that had a great view of Black Brook Cove (I think)) with its large sand beach and break waters about 500 meters from the shore. I rode a little father to the next stop and climbed out onto the rocks to get a little closer to the action.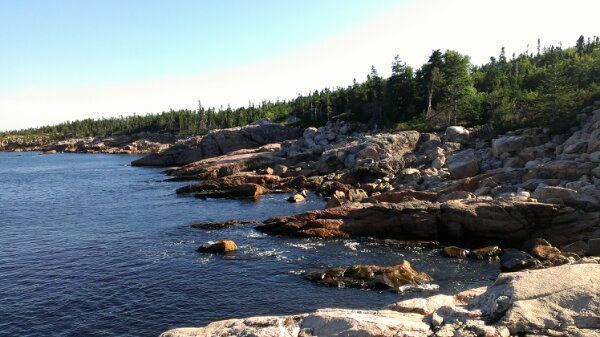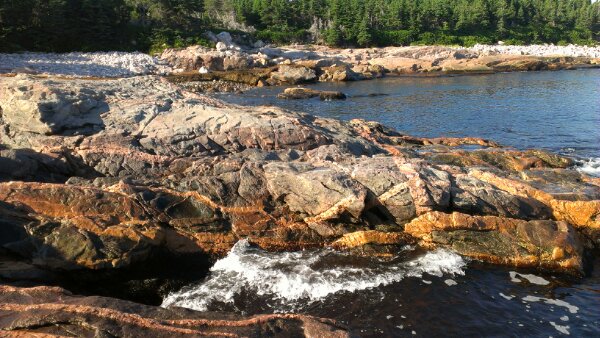 I eventually made it to Ingonish campground and setup for the night. I had my final night of noodles since I planned to ditch my pot and stove in the morning. A very hard day of riding but the great views on the Cabot trail made it worth it.