This was the biggest ride to date and although not the hardest ride I was done by the end. I woke up around quarter to 5 am still brooding over yesterdays defeat. I was ready to go but it was still dark so I laid in my sleeping bag before packing up and getting on the road. There was an erie mist surrounding the whole country side and the sun was barely poking through the haze to give a few hundred meters of visibility. I figured it was safe enough as there was next zero traffic.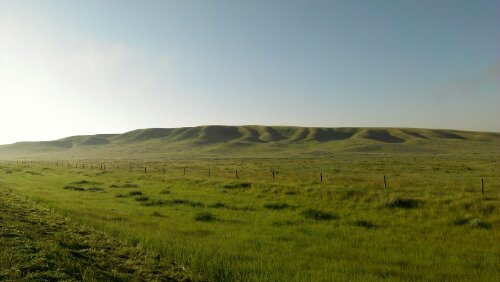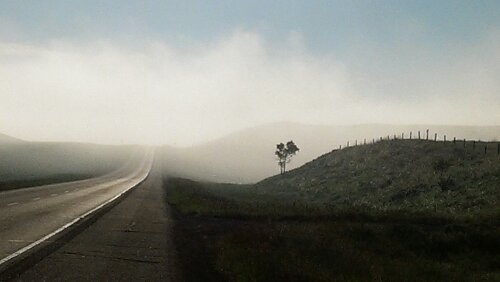 I rode for maybe 5 minutes with no wind, yes this is correct no wind, until I came upon Saskatchewan in the form of a rest stop. I took a few pictures but didn't want to lose any opportunity with the wind being asleep and all. The road was kind of hilly with mist hanging off the tops of the hills. Any traffic that passed me soon disappeared about a kilometer ahead as if entering the Bermuda triangle. Though hilly I got over 30km an hour on some of the downhills and actually got into the big ring once.

I was really rolling along and covered a lot of ground quickly. Unfortunately there were no breakfast places so I grabbed a blueberry muffin at a gas station since there were no chocolate ones. By this time there was a slight wind but it only slowed me down a kilometer or two an hour and the breeze had a cooling effect since it was already getting hot and sweaty.
After another hour of riding, roughly 10:30am, I was ready for more food and pulled into the very tiny town of Piapot with 70 kilometers under my belt. This town is really small and has only dirt roads but it is also very charming and peaceful with birds chirping and the sound of the breeze on the leafy trees. I coudn't find a restaurant so I went into the post office where I met Danika and Janice. Janice was the one working and explained there was no restaurant but seeing I was on a bike he gave me part of her lunch: a banana and two pieces of excellent home made chocolate cake! She also gave me some energy powder for my water which I got from the side of the building. When I handed out my card she also donated $10. What a stroke of luck!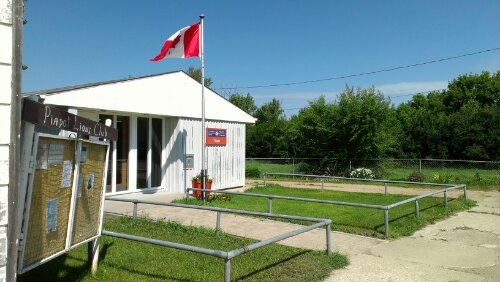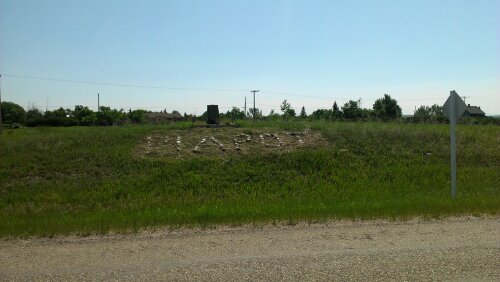 From there I went looking for Tompkins which was 25 km up the road but had a restaurant. The one at the side of the highway was closed so I went into the town of Tompkins which is slightly bigger than Piapot and found a restaurant serving Chinese food. There was an elderly couple there Alvin 89 and Elaine 79 Peterson having lunch. We started talking about my trip which led to discussion about the coldest day back in the 1930's which was minus 59 degrees, the cost of buying a farm versus a condo in downtown Vancouver, his sons organic farm and his sons grocery in Gull Lake (he had a 2 or 3 sons) and how things like my cell phone were changing so rapidly. It was a great conversation that I really enjoyed and of course they donated a well.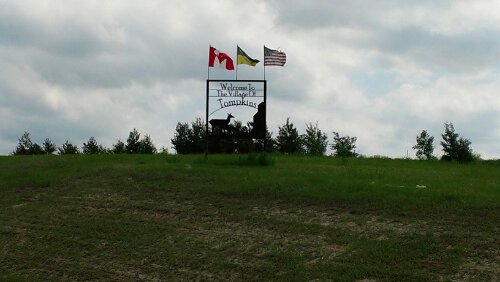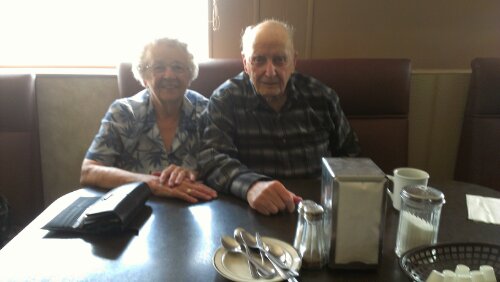 Back out on the road it was getting hot and I reapplied sun screen before heading off. I had about 60 kilometers to go and the saddle sores where back with a vengeance. For a lot of it I just stood off the seat to ride. It was tough riding here on out with rolling hills and a more than gentle breeze but nothing like yesterday. As I neared Swift Current I had a slurpee thrown at me but red necks aren't known for their skill rather their neanderthal tendencies. Just after a got some friendly honks though and forgot the whole thing.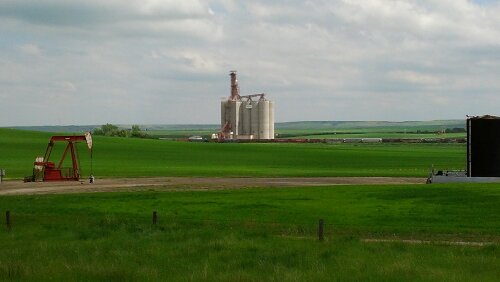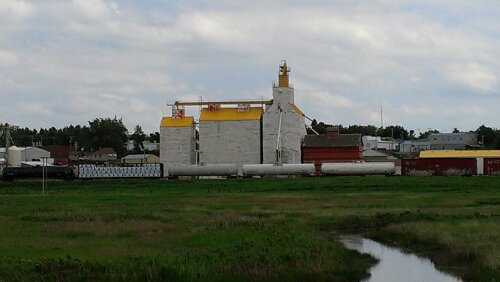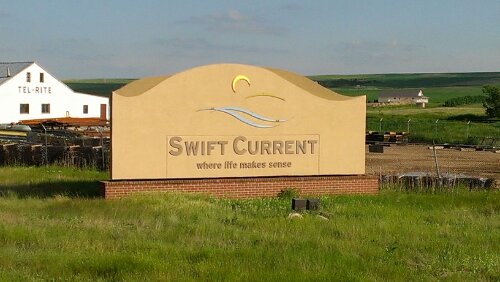 Final task of the day was to buy soap and shampoo since I left them behind in Medicine Hat – doh!